Watermelon Popsicle on the Road: Palm Springs
I just wanted to start out by saying that I feel really lucky that I got the chance to take two back-to-back trips to Palm Springs. Two totally different trips that made me realize how versatile and welcoming the city is.
If you're not the kind the of person who loves to spend the day soaking in the pool, DO NOT go to Palm Springs during the summer months. It's literally over 100 degrees even at night. During the day the temperatures easily reach 120 degrees. So yeah, don't think you're going to be able to stroll around in Downtown, during the afternoon, because you probably won't.
That said, if you are like me and love the heat and some pool fun, Palm Springs is the place for you. Think pool floats and endless pina coladas. Yup, that's goals right there!
So back to my two trips...
The first one was a girls' trip to celebrate the bachelorette party of my friend Meagan. Palm Springs is one of the official destinations for bachelorette parties. I'm not even joking. In two weekends I was there, I think I over 10 groups of girls celebrating their friends' last single days.
Differently than places like Vegas and South Beach, Palm Springs is not really a party town. Unless it's Coachella season. The residential area even has a 10 PM noise curfew. The city looks like it's still in the 50s/60s, everything has sort of vintage vibe and when you're walking around the place just looks like it came straight out of Pinterest and Instagram. It's really dreamy.
So for that first weekend, the girls and I just rented a mid-century house, the cutest NineTwentySix, and threw a flamingo party for Meagan, which was perfect, because the house was all flamingo decorated. All the girls worked hard to make sure all the details were covered, from groceries and dinner reservations to small decor details like straws, drink floaties and hangover bags. We spent a lot of time in the house, by the pool, but the we did go out for dinner and drinks on Saturday night.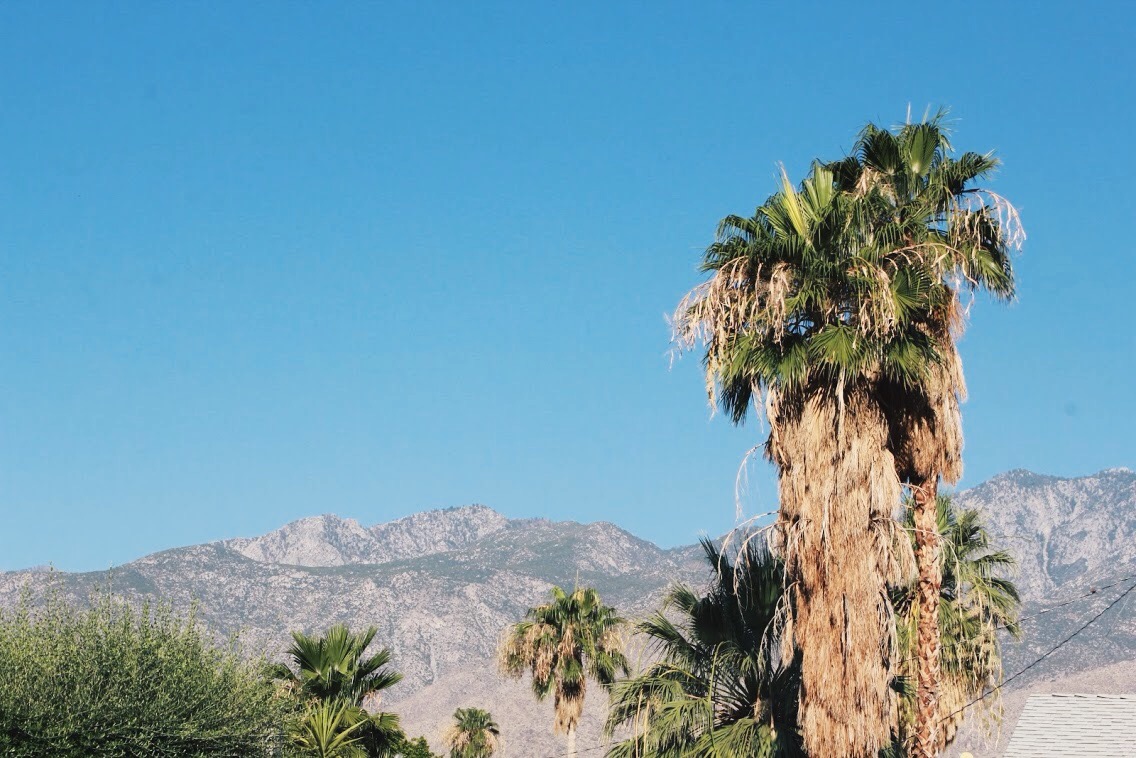 First stop, Bootlegger Tiki. The bar is one of those blink and you'll miss it type of places, but once you're inside it's really cool. Palm Springs really likes its Tiki bars, and Bootlegger Tiki definitely lives up to the tradition. The decor was really cute and the drinks were the bomb. Scorpion Bowl, I'm looking at you!
Next stop, Birba. Remember what I said about the places Palm Springs being like Pinterest IRL? Birba is definitely one of those places. Great food, great atmosphere, great service and prices. That's probably the reason why the place was so packed in spite of the heat. I was glad we chose such a nice spot to spend the big dinner of the weekend at.
The initial plan was that we were going bar hopping that night, but we gave up on that after walking around for a few blocks. I'm telling you, it was hot.
Now, moving on the the second trip, which I call my little romantic getaway. Chris and I were looking for a quick 24 hour trip somewhere nearby where we could relax and forget about our crazy busy San Diego life. While I was doing my research on hotels, I came across The Riviera, which looked like the hotel of my dreams. I'm still pretty surprised by how incredibly affordable it was.
We got to Palm Springs around noon, on a Sunday and, again, it was hot as balls. Since most places were still closed we decided to just grab a beer at a pub and went straight to the hotel pool. They had a DJ playing in the pool area so the place was packed, but that ended up being kinda nice because we met two locals. Eileen and her boyfriend Aaron gave us all the tips of cool places to go. Chill and Tonga Hut were some of their recommendations. It was interesting to meet and hang out with people in our range who actually live there. We felt like we left Palm Springs with two new friends.
The hotel was super busy that day and they ended up messing up our reservation, but before I could even say anything, they gave us a mega upgrade to giant room with a fireplace. Tell me about luck!
All that time in the pool got us starving, so we decided to get all dressed up and "go out" for dinner. The Riviera has like five different bars and restaurants, we got to try two of them. Both the Cantala and Cafe Palmetto share the same patio area, but have separate dining rooms. We had dinner at Cantala, in the indoor area because heat. Great food and drinks, nice little atmosphere. After dinner we decided to go back to the pool for a night swim.
Next morning was time to enjoy breakfast at Cafe Palmetto, which was the biggest breakfast of my life. The patio is cutest thing and since that morning wasn't so hot, sitting there was actually really enjoyable. From there we got to enjoy some more pool time before we headed back home.
One thing we unfortunately ended up not doing, but that I highly recommend is the Palm Springs Tramway, which takes you to the top of a mountain where can dine and go hiking.
I'm already missing Palm Springs and I'm really looking forward to go back ASAP.
Have you ever been to PS? What are some of favorite things to do/places to go there? Let me know in the comments.